Walking in Tuscany
Fall in love with provincial Italy on this adventure through Tuscany.
Famous for its rolling, sun-drenched hills dotted with quaint villages and scored by manicured rows of vineyards, the Tuscan countryside remains an unspoiled vision of classical Italy. From captivating Florence, with its historic galleries and magnificent hilltop views, head out to the Val d'Orcia region and visit ancient villages waiting to be explored. Wander through crumbling castle remains in Monte Voltraio, get lost in the cobbled laneways of Volterra, and discover the hidden secrets of Siena. Taste local wines and experience an unforgettable night at a Tuscan farm.
Why you'll love this trip
Enjoy a wine tasting in a Montepulciano wine cellar, the perfect end to a morning spent strolling in the Tuscan hills

Discover charming villages such as Monticchiello, hidden to mass tourism by their location and tiny size

Uncover the secrets of the hilltop village of Volterra, famous for its magnificent sunsets and Etruscan ruins dating back more than 2,000 years. The Romans mined Volterra's alabaster for sculpting. Visit a small workshop for an exclusive demonstration by an artisan who has been plying his trade for over 70 years

Relax by supping a glass of Vernaccia on top of the city walls in the afternoon in San Gimignano, when most tourists visiting the town have disappeared. Vernaccia is a local grape varietal, produced in and around San Gimignano.

Visit beautiful San Quirico and Pienza, both located in picture perfect Val d'Orcia, where you will check into your 'feature stay' hotel, a converted 15th century monastery.
Is this trip right for you?
You will need to be in good health and able to walk for 4-5 hours a day (5-12 km). The walks on this tour are mostly graded moderate and there are some up-and-down sections. The terrain varies from well-defined paths to rocky trails. The scenery is of course well worth the exertion!

Summer temperatures can be extreme in Italy (over 40°C). It's important to use sun protection, wear layers to combat the heat and drink plenty of water.

As accommodation on this trip is twin-share, single travellers will share a room with another traveller of the same gender. If you'd prefer not to share, a single-room supplement is often available (at an additional charge). Many hotels in Europe don't have double beds, but rather two single beds that can be pushed together or apart.
Map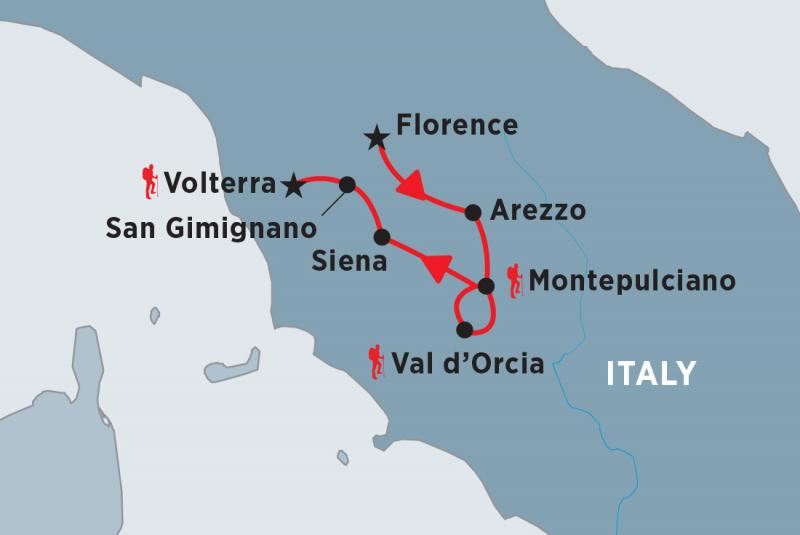 Included activities
Arrival Transfer from Florence Airport
Florence Sightseeing Tour
Wine Tasting in Montepulciano
Montepulciano Sightseeing Tour
Montichiello Country Hike
Pienza Sightseeing Walk & City Walls
Guided Hike in Val d'Orcia & Bagno Vignoni
Visit to Abbazia di Sant'Antimo
Siena Sightseeing Tour
Via Francigena Hike to San Gimignano
Monte Voltraio Hike
Villa Palagione Visit

Itinerary
Day 1: Florence
Welcome to Florence, the cultural capital of Italy and the gem in Tuscany's crown. No activities are planned until tonight's group meeting, so you can arrive at any time. If arriving early, be sure to head out and see some of Italy's 'outdoor museum'. Perhaps pay a visit to Piazza della Signoria and marvel at the collection of famous statues there. In the evening, meet your trip leader and fellow travellers at a welcome meeting.
Accommodation - Hotel Domus Florentiae or similar (1 night)
Special Information - An arrival transfer from Florence Airport is included in the price of this trip, so please make sure you advise your agent of your arrival flight details. The group meeting usually takes place at 6pm but it is advisable you check the exact time and place at the hotel's reception. At this meeting the leader will give you a briefing on what lies ahead.
Day 2: Florence / Arezzo / Montepulciano
From your hotel walk into the heart of Florence with your tour leader and take some time to explore the outstanding works of art preserved over the centuries in this captivating city. Florence is considered the birthplace of Renaissance, as well as the cradle of the Italian language. You will stroll along its fascinating streets, and enjoy the essence of Italian history and culture. Pass along the Ponte Vecchio Bridge, visit Piazza della Signoria and gaze up at the landmark of Florence, the Duomo. At around midday you will drive to the town of Arezzo, the setting for 'La Vita è Bella'. In Roman times it was the most important city of the Etruscan federation. You are free to wander around this interesting town and enjoy lunch at your leisure. In the late afternoon travel on to Montepulciano, one of Tuscany's most attractive hill towns. Settle into your hotel before enjoying a group dinner together.
Accommodation - La Terrazza di Montepulciano or similar (1 night)
Included Activities - Florence Sightseeing Tour
Meals Included - Breakfast, Dinner
Special Information - Walking distance: 4-5 km; approximately 1,5 hours
Day 3: Montichiello / Montepulciano
After breakfast, walk to the impressive Chiesa di San Biagio, a 16th-century church nestled at the edge of the Montepulciano village walls. Cross through the picturesque valley below, past vineyards, pastel-coloured villas and rolling hills, until reaching the village of Monticchiello. Here, enjoy lunch under the welcome shade of a grapevine canopy. Explore Montichiello's town walls and stroll through the charming town centre. Return to Montepulciano in the afternoon and enjoy a sightseeing tour of its labyrinthine maze of laneways and imposing defensive walls. The views from the walls across the Tuscan landscape are simply unforgettable.The afternoon will be at your leisure. Perhaps do some shopping in Montepulciano's classy boutiques. Later on in the afternoon take part in a wine tasting in a local cellar.
Accommodation - La Terrazza di Montepulciano or similar (1 night)
Included Activities - Wine Tasting in Montepulciano, Montepulciano Sightseeing Tour, Montichiello Country Hike
Meals Included - Breakfast, Lunch
Special Information - Walking distance: 10 km; approximately 4 hours
Day 4: Val d'Orcia / San Quirico / Pienza
This morning you will be transferred to the beautiful village of San Quirico, one of the lesser known jewels of Val d'Orcia. You may relax in its beautiful ornamental garden, or simply enjoy a coffee in one of the cafes lining the corso. You'll then embark on a beautiful walk through the distinctive landscapes of the Val d'Orcia, flat chalk plains interspersed by almost conical hills topped by fortified settlements. It is in this bucolic setting that you will reach the unique spa town of Bagno Vignoni. Here the main town 'square' is actually a picturesque ornamental pool built by the Medici family! Cool our heels in the many Etruscan water channels that surround the old watermills just outside of the town centre. This is a truly unique attraction in the Val d'Orcia but unknown to mass tourism. There are several options after the walk to Bagno Vignoni: Avid hikers can opt for a beautiful route all the way to Pienza, or alternatively you can choose to ride in our vehicle to the stunning chapel of Vitaleta. The short walk from here to Pienza, especially in the late afternoon, is one of the highlights of this trip. Arrive in Pienza and enjoy the views from Pienza's city walls that are quite simply spellbinding. Take time to pause and enjoy the captivating vistas afforded to you, the epitome of Tuscan landscapes rolling expansively before you - burnt orange villas, tightly wound hay bails, meandering country lanes and fields of barley. After arrival you will check into your feature stay hotel, a beautiful monastery converted into a hotel, right in the heart of the Utopian city of Pienza. Enjoy dinner on the premises of the monastery tonight.
Accommodation - Hotel Il Chiostro di Pienza (Feature stay) or similar (1 night)
Included Activities - Pienza Sightseeing Walk & City Walls, Guided Hike in Val d'Orcia & Bagno Vignoni
Meals Included - Breakfast, Dinner
Special Information - Walking distance: 10 km; approximately 3 hours
Day 5: Val d'Orcia / Montalcino / Pienza
After a leisurely breakfast set off to the real highlight of this area, and arguably the most beautiful monastery of Tuscany: the beautiful Romanesque church of Sant'Antimo (Abbazia di Sant'Antimo) in a picture-perfect landscape. Here you'll have the possibility to listen to Gregorian chanting. After an optional lunch depart for the charming village of Montalcino, one of the most stunning hilltop towns of the area. Montalcino, an authentic medieval village dominating the surrounding forests and vineyards, is in fact the capital of the world-famous Brunello wine. Visit the charming old town, stroll along the impressive medieval town walls – and perhaps do another wine tasting in the beautiful setting of the fortress of Montalcino. In the afternoon return to our base in beautiful Pienza. Sit in the garden, relax at the pool or just take a seat in the main 'Corso', sip on a local glass of Sangiovese and partake in another fine Italian tradition - the art of people-watching.
Accommodation - Hotel Il Chiostro di Pienza (Feature stay) or similar (1 night)
Included Activities - Visit to Abbazia di Sant'Antimo
Meals Included - Breakfast
Special Information - Walking distance: 7 km; approximately 2 hours
Day 6: Siena / San Gimignano / Volterra
After breakfast journey towards ancient Volterra. On your way pay a visit to Siena to discover the best of this most celebrated medieval city. Its heart, in every sense, is the famed 'Piazza del Campo', a grand fan-shaped piazza built on the site of the old Roman forum. Bordering the southern flank of the square is the 14th century Palazzo Pubblico, with some fine early Renaissance frescoes. Also of interest is the fine main church, the Duomo, a wonderful mixture of Gothic and Romanesque architecture, with a particularly splendid façade. After lunch your private bus will bring you to stunning San Gimignano. Those who wish can walk a beautiful stretch into town, along the Via Francigena, Italy's most famous pilgrim road, to enter the city the way pilgrims have done for over a thousand years. Of course there is some time to stroll through this stunning medieval town, and perhaps climb one of its 'skyscrapers'. Sip a glass of local Vernaccia wine in the most perfect setting you could dream of: sitting on the medieval town walls of San Gimignano overlooking the Tuscan hills. In the late afternoon we arrive in beautiful Volterra, full of Etruscan history, and famous for its alabaster, situated high on a plateau with sweeping views of the valleys below.
Accommodation - Hotel Etruria or similar (1 night)
Included Activities - Siena Sightseeing Tour, Via Francigena Hike to San Gimignano
Meals Included - Breakfast
Special Information - Walking distance: 3-4 km; approximately 1 hour
Day 7: Volterra
Explore the old town of Volterra and walk past the Etruscan walls and the Roman theatre. Head towards Monte Voltraio, a sandstone hill once dominated by a castle known as the Rocca di Monte Voltraio. At the foot of the hill stands the beautiful abandoned medieval building of the Casale Rocca. You'll pass through pleasant landscape, meet with farmers still cultivating their land like in ancient times and pass the small 13th Century church of San Lorenzo. The goal of today's walk is Villa Palagione. It is an ancient country residence built in 1598 by Geronimo Minucci, cupbearer of the Medici at the peak of the Florentine power and culture. In a setting that has seen four centuries of history, the villa still offers frescoed halls, a Gentility chapel and an Italian garden full of flowers and perfumes. Here you'll stop for a short break, and then for those who want there is the possibility to climb up to the ruins of the castle on the top of Mt Voltraio, which offers superb views over the Tuscan countryside. Enjoy a picnic lunch at a picturesque spot from where you can enjoy a wonderful view of Volterra. In the afternoon make your way back to Volterra on foot. There is the possibility to relax in the gardens of Villa Palagione and dive into its panoramic swimming pool (and then travel back by bus) so pack your swimsuit! At the end of the day you can go and visit some of the last remaining alabaster craftsmen, who still practice this centuries old art, before joining the group for the last evening dinner in a local restaurant.
Accommodation - Hotel Etruria or similar (1 night)
Included Activities - Monte Voltraio Hike, Villa Palagione Visit
Meals Included - Breakfast, Dinner
Special Information - Walking distance: 8-10 km; approximately 4 hours
Day 8: Volterra
Your Tuscan adventure comes to an end in Volterra this morning. Before departing, take the time to visit the well-preserved medieval city ramparts or wander through the cobbled laneways. We are happy to book additional accommodation for you if you wish to stay longer (subject to availability).
Meals Included - Breakfast
Special Information - If you haven't had enough of Italy yet why not join our connecting 'The Cinque Terre Explored' trip, a walking trip that takes in the highlights of the Cinque Terre and the Portofino Peninsula. If booked in conjunction with this trip it will include a transfer to our hotel in the Cinque Terre region.
Includes
Accommodation - Comfortable hotel (5 nights), Feature stay in Val d'Orcia (2 nights)
Meals - 7 breakfasts, 1 lunch, 3 dinners
Transport - Private vehicle, Local bus
Included activities as specified
The services of Peregrine's expert English-speaking local tour leader
Please Note:
Prices shown based on low season travel - details on request

Travel dates:
Specific travel dates apply

Terms and Conditions Apply *
8 days stay from:
$4,385*
per person share twin