Antarctic Explorer - Viking Expedition Cruise
This ultimate adventure takes you to the Antarctic peninsula, where you will witness towering glaciers, snow-covered landscapes, immense icebergs and once-in-a-lifetime wildlife viewing. In the footsteps of explorers such as Amundsen, Shackleton and Scott, you will be one of the few to discover the world's last truly wild frontier. Each day brings new surprises and the opportunity to change plans to maximize wildlife sightings and adapt to ever-changing weather.
Book by 31 March 2021 and save up to AU$2000* per couple.
Itinerary
Departures: 02, 13, 21, 24 Nov 2022, 05, 16, 26, 27 Dec 2022, Buenos Aires to Ushuaia. More departure dates available.
Day 1 Buenos Aires, Argentina
Arrive in Buenos Aires and meet your expedition leaders and fellow guests; relax during an overnight stay in your hotel. Time permitting, you may wish to explore Argentina's cosmopolitan capital. Influences from Spain, France and Italy all converge here, creating one of the Americas' most engaging and energetic cities. Yet, it is often easy to forget you are in a big city, as the many barrios, or neighborhoods, of Buenos Aires exude an intimate atmosphere.
Day 2 Ushuaia, Argentina
At the very tip of South America, Ushuaia prides itself on being the world's southernmost city, surrounded by subantarctic forests, crystal-clear lakes, pristine glaciers and rich peat bogs. You will arrive today by private charter flight. Board your Viking Expedition ship and take time to get to know your ship and expedition team.
Day 3 Cruise Drake Passage
Named after its discoverer, Sir Francis Drake, this legendary route takes you from the tip of South America into the Antarctic Convergence, where sea temperatures plunge to near freezing in just a few hours' sailing. Here, in the solitary beauty of the Southern Ocean, you may glimpse your first iceberg. Relax, enjoy one of many onboard dining options and take part in briefings by your Viking Expedition Team as you prepare for the adventures ahead.
Days 4-10 Explore Antarctica
Explore the "Last Continent," covered in ice and teeming with penguins, seals, whales and other wildlife. On exposed land, colorful lichens, basalt cliffs and rocky beaches provide refuge for a variety of breeding petrels and penguins. Stand within sight of Antarctica's majestic mountains. Watch glaciers calve into the sea while seals nap and penguins squabble as they tend to their stony nests. From the comfort of your ship, simply marvel at the majesty of your surroundings.
Day 11 Cruise Drake Passage
Bid farewell to Antarctica by again crossing the Drake Passage, a rite of passage for all polar explorers. As you sail, you may wish to learn more about this historic waterway, continue your studies about Antarctica, simply relax in The Nordic Spa or share your experiences with fellow guests in the Aquavit Bar.
Day 12 Scenic Cruising: Cape Horn
Headland of Chile's Tierra del Fuego archipelago at the southern tip of South America, Cape Horn straddles the Atlantic and Pacific Oceans. Dutch sailor Willem Schouten, who named the cape after the Dutch city of Hoorn, first rounded it in 1616, and to this day, rounding the cape is a milestone reserved for experienced sailors. On your Viking Expedition ship, you will join the ranks of other intrepid seafarers who have completed this legendary passage between the two oceans.
Day 13 Ushuaia, Argentina
Often referred to as the "End of the Earth," Ushuaia is the world's southernmost city. Depart Ushuaia by charter flight to Buenos Aires. Continue your journey home or choose to explore more with a post-cruise land extension packages.
Map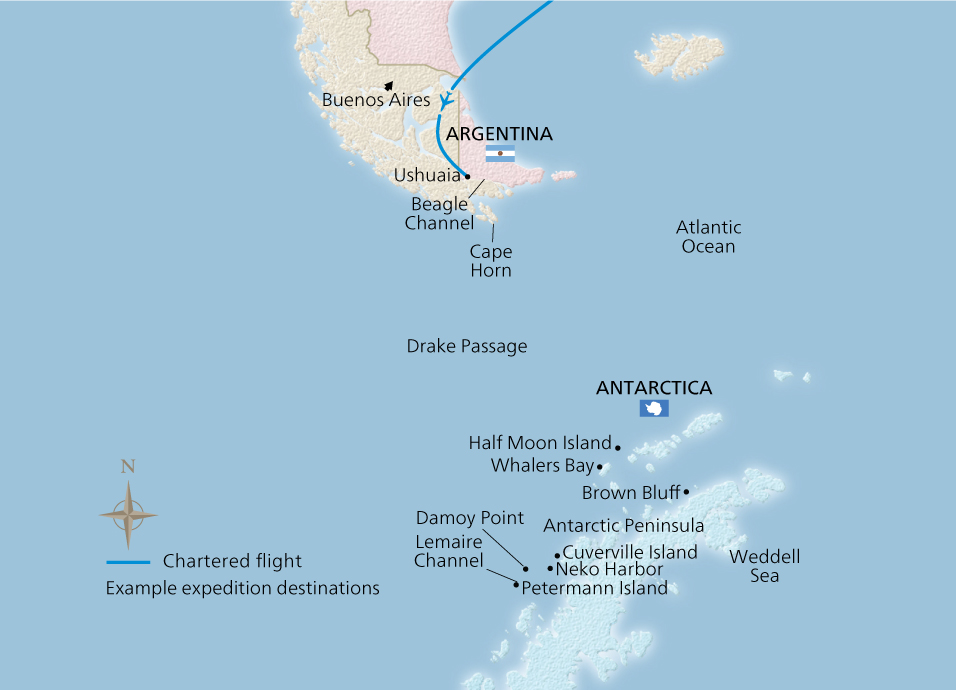 Includes
13 day excursion cruise vising 2 countries
24-hour room service
Beer, wine & soft drinks with onboard lunch & dinner
Free Wi-Fi
At least one complimentary excursion in every port of call/landing site
Kayaks, zodiacs, RIBs & submarine excursions (where available), Excursion Gear and a Viking Expedition Kit with a variety of equipment to explore
Alternative restaurant dining at no extra charge
24-hour specialty coffees, teas & bottled water
Self-service launderettes
Access to top-rated spa & state-of-the-art fitness center
Port taxes & fee
Bonus
Book by 31 March 2021 and save up to AU$2000* per couple
Please Note:
Prices are in AUD

Departure dates:
Specific travel dates apply

Terms and Conditions Apply *
13 days stay from:
$20,995*
per person double occupancy, Nordic Balcony. Price in AUD