Rajasthan Revealed
Get the very best of Rajasthan on this memorable Northern India adventure.
If you asked our tour leaders where they would most like to go to in Rajasthan, this special tour would be it! The magic of Rajasthan can best be experienced by being a guest in some very special places and recipient to timeless Rajput hospitality. Overnight stays in ornate 'havelis' and historic palaces that are now heritage hotels enable us to sample the lifestyle of a maharaja, surrounded by opulence and grace. Visits to villages allow us to connect with the local people who in some cases still live a way of life that has changed little in centuries. The fabled cities of Agra - home to the magnificent Taj Mahal, Udaipur, Jodhpur and Jaipur will impress with their grandeur, whilst Karauli, Bundi, Bijaipur and Dera Khairwa will entice with their romance and rich cultural legacies. We also seek out India's exotic wildlife, including the magnificent tiger, on an adventure to Ranthambhore National Park. This is indeed the Rajasthan of your dreams!
Why you'll love this trip
Experience Rajput hospitality, and feel culture and history all around you during your feature stay in a 15th-century fortified palace

The opportunity to contrast the exciting chaos of the big cities with the different pace of life and local traditions of remote villages

Discover the rich history and architecture of the impressive Forts scattered across the province, and how the Taj Mahal, one of the most recognisable buildings in the world, still has the power to surprise even the most experienced travellers

The chance to get closer to India's exotic wildlife, and perhaps catch more than a glimpse of its elusive animal king, the magnificent tiger, in Ranthambhore National Park

Feel like true royalty during your feature stay at Bhanwar Vilas Palace
Is this trip right for you?
Rajasthan is a desert state and so it's important to prepare for hot sticky temperatures during the day and cooler climates in the evening. Layers are the best way to tackle this disparity in weather.

Many Heritage hotels are preserved in their original state and so offer a unique accommodation experience, but for this reason the facilities they offer are not the same as standard hotels.

There are a number of long travel days on this trip. Some journeys take up to eight hours, but are a great opportunity to get to know locals, fellow travellers and the diverse scenery.

This is an adventurous Peregrine trip with more travelling days to ensure that we can cover more ground, visit more sites and stay in many and varied Heritage stays.

From April 2017, the main dome of the Taj Mahal will undergo mud pack therapy to restore its original colour. It is expected the dome will be covered in iron scaffolding during the process which is expected to last a year.
Map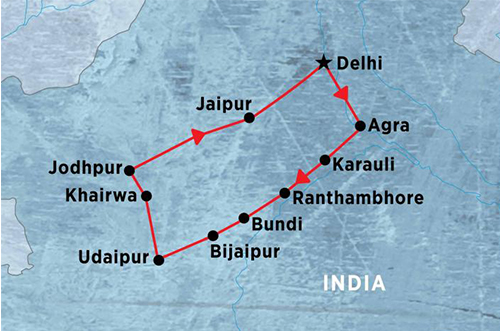 Full tour dossier is available - get in touch with your travel specialist for details.
Includes
Accommodation - Luxury tented camp (2 nights), Historical heritage hotel (3 nights), Palace feature stay (1 night)
Meals - 16 breakfasts, 1 dinner
Transport by Private vehicle
Included activities as specified
The services of Peregrine's expert English-speaking local tour leader
Please Note:
Price shown is based on low season travel. Seasonal surcharges apply.




Travel dates:
Specific travel dates apply

Terms and Conditions Apply *
17 nights stay from:
$3,135*
per person share twin